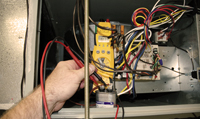 Regular maintenance of your heating system can keep your furnace running efficiently throughout the winter months and often save you from needing furnace repair. However, keeping your heating system perfect is not easy. Your New York City furnace repair experts at HUB Plumbing & Mechanical of New York City are available to help any time.
Most furnace repairs and upkeep is best left to an expert. However, there are some quick tips for making sure your furnace stays healthy. Simple cleaning of your furnace can often increase fuel efficiency and keep your furnace from overheating. Dirt and dust are major contributors to wasted energy and the overworking of your heating system. Cleaning the furnace filter should be the first step. Replace your furnace filter at the beginning of the heating season and then throughout every 4-6 weeks. Most furnaces in the southwest have removable disposable furnace filters and you should always follow the directions when changing them out.
If you have a gas furnace, checking the pilot light controls or the gas valves for leaks is important. The pilot light can go out in drafty houses as well as the opening becoming clogged. Pilot lights that won't stay lit should be looked at by a professional as there may be a problem with the thermocouple. If you find and smell a gas leak, especially with propane powered units, open all windows and doors in the immediate area and get out of the house to call the gas company or the fire department to report a leak. Stay out of the house until the professionals say it is ok to come back inside.
Electrical furnace repair is often less expensive over the lifespan of the furnace, however, the operating cost can often be higher. Your New York City NY heating system professionals can help get your system running efficiently in no time. Cleaning and adjusting your electric furnace at the beginning of each heating season will prove beneficial. Careful examination of fuses, breakers, filter, and blower motor will give you an idea what furnace repairs you will need to have done on your system before entering the winter months.
HUB Plumbing & Mechanical of New York City are your New York City heating system maintenance experts. Give them a call today at 646-862-7059 or visit them online for more information.