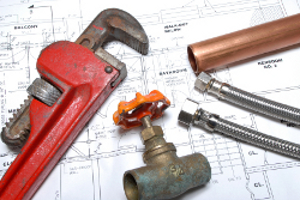 As one of the most important components in your home, an efficient plumbing system is essential. In order to ensure this efficiency, proper maintenance for your plumbing is an absolute must. After all, nothing is worse than a sudden breakdown or malfunction, leaving you with water damage to your home or without water entirely. For peace of mind, rely on our trained New York City plumbers at Hub Plumbing & Mechanical to provide your home with vital plumbing maintenance.
As any homeowner can attest, it is best to catch small problems before they become large ones. It is far easier to put a stop to something when it has just started, rather than when it has gone too far. With an inspection of your home and plumbing system, you can rest assured that a small leak will not grow larger, resulting in extensive and costly damage to your home.
For all your plumbing needs, it is important to count on a professional plumber to take care of them. Our professional plumbers can utilize their years of experience and knowledge of the intricacies of your system to effectively locate, diagnose, and alleviate your plumbing issue. With a professional inspection and plumbing maintenance program, however, we can catch problems before they persist, saving you the worry of a complete plumbing breakdown or having to replace your system entirely.
With any questions, comments, or to schedule an essential plumbing maintenance service today, give us a call at 646-862-7059 or visit us online today.