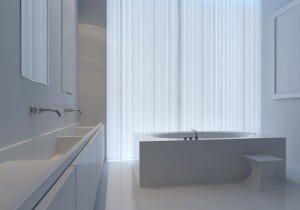 Whether to improve the functionality of the hardest-working room in your home or to transform it into your own personal home spa, a bathroom makeover offers promise and possibilities. As the stars of your bathroom renovation, the plumbing fixtures that you choose play a significant role in the project's success. From a spa amenity like a whirlpool bathtub to an innovative touch-activated faucet, new plumbing fixtures can add both fashion and function to your home. At HUB Plumbing & Mechanical NYC, we understand that proper plumbing installation is as important as style.
Guaranteed Customer Satisfaction
Making sure that your plumbing remodel provides lasting satisfaction is our first priority. Our plumbing experts ensure that every step of the process meets and exceeds your expectations. With their broad experience in plumbing installations through the city, our expert New York City plumbers ensure that your plumbing remodeling meets all code and permit requirements as well.
Exploring the Possibilities
With over 12 years experience as a leader in the plumbing industry, the plumbing pros at HUB Plumbing & Mechanical NYC are experts when it comes to functionality and style. We not only have access to all the products, parts, and equipment needed for a stellar bathroom makeover but we can offer inspiring ideas as well. From streamlined fixtures that help you get up and running in the morning to luxury amenities that pamper you at the end of a busy day, we know how what it takes to turn an ordinary bathroom into something special.
Call Our Team Today
Your home is your private domain, a place designed to offer relaxation and refreshment to you and your family. A bathroom makeover offers you the opportunity improve the busiest room in your home with gleaming new plumbing fixtures and elevated style. With help from the experts at HUB Plumbing & Mechanical NYC, you can give yourself a new bathroom that will enhance your life at home. To learn about our plumbing remodeling services, call us today at 646-862-7059.