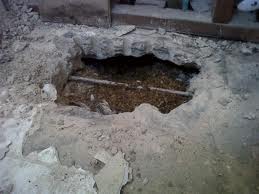 Slab leaks can be a pain for anyone. Fortunately, our New York City plumbers at Hub Plumbing & Mechanical are here to handle all of your plumbing problems and to assist with slab leak detection and prevention.
A slab leak is a rupture or break in the piping that weaves throughout the foundation – or slab – of your home or office. Repair costs can skyrocket when a repair job involves digging into the concrete foundation of your home. If you suspect a slab leak, contact our NYC plumbers as soon as you can.
An initial sign of a potential slab leak is an unexplained spot of wetness on the floor. This can occur from moisture sifting upward through the foundation and surfacing on your floor. If the problem is indeed a slab leak, the puddle will continue to grow until flooding gets out of control.
An unusually warm spot on the floor can also point to a slab leak – the water that seeps through your foundation causes a warm sensation to the touch. Slab leaks also give themselves away through visible cracks in walls or floors, abnormally high water bills, and the sound of running water.
If you notice these symptoms or suspect a slab leak, our New York City plumbing company can use state-of-the-art technology to detect any abnormalities in your plumbing system. The longer you let a slab leak eat away at your foundation, the worse it can get. Call us today, or visit us online for details.