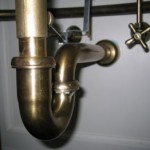 It's summer, and this is the most common time for home buyers to search the NYC real estate market. Unfortunately, many people aren't aware of problems that may exist in a home that are not found by inspectors, especially plumbing leaks and poor plumbing systems. Before buying a home filled with plumbing repair needs, be sure to check out the various plumbing fixtures so you know what you're getting yourself into.
In the bathroom, be sure to inspect the floor; look around the base of the toilet for water damage, and test to make sure there are no soft spots in the floor. These are signs of water leaks, typically existing. If you find black and white stains or rolled vinyl flooring, these are also clues that water leaks may have previously plagued the area or are currently a problem. Also be sure to press tiles on the wall to check for leaks and loose tiling. Before you move on, flush the toilet and make sure it works properly, not draining too slowly or causing water to leak.
To check for adequate piping and water pressure, turn on a bathtub faucet and the kitchen sink faucet. If the pressure is significantly reduced with both running, the piping may have a large amount of calcium and mineral deposits and need to be replaced. While you are in the kitchen, make sure the connections to the dishwasher and garbage disposal are tight and show no signs of leaks. Also, check within the cabinetry to assure there is no water damage, including stains, rotted corkboard, or sagging bottoms. Be sure to check the washing machine hose as well, since these can rupture and lead to extensive water damage.
The first four digits of the serial number on a water heater are the month and year of manufacture. If the water heater in the home is more than 15 years old, you'll want to contact your local New York City plumbing company to replace it. You may also want to check for rust on the tank, as this is a sign of impending issues with the hot water heater. If you are unsure of problems you may find, you can get assistance with inspections from our New York City water heater technicians, available to help you assess the value of the plumbing system in your prospective home purchase.