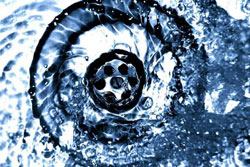 There are many methods to cleaning clogged drains. The most popular methods are a plunger and a harsh chemical gel or liquid cleaner. If you want to go green and keep the more toxic chemicals out of your home and pipes, then there are a few things to understand.
Green drain cleaners or "enzymatic" drain cleaners feed on the organic waste in the drain through enzymes. They then digest and reproduce creating "good" bacteria that continues to spread all without the use of harsh or dangerous chemical. Undoubtedly, this is better for your pipes and the rest of your home, yard and family.
If you don't want to purchase a green drain cleaner, there are plenty of home remedy mixtures for unclogging your drain. Try pouring boiling hot water down the drain. Heat can be a great tool to loosen clumped or crusted waste. Mixtures of baking soda, vinegar, and salt flushed with hot water after sitting for 30 minutes to an hour can also help unclog most drains without the use of harsh or toxic chemicals.
The best way to keep your drain clean is through preventative plumbing maintenance. Clean your sink strainers and stoppers. Don't pour just anything down your sink or shower drain. Avoid pouring grease and large chunks of food down your drain or disposal. Buy screen covers for your shower drain to avoid hair buildup.
When in doubt, always call the professionals at your local New York City NY plumbing service. HUB Plumbing & Mechanical is here for all your residential plumbing repair and maintenance. Give us a call or go online to schedule an appointment now.